Jeddah — It's not permissible to slaughter Cow even secretly when the law has prohibited it, said Saudi-based scholar Sheikh Assim Al-Hakeem.
The question and the Sheikh's response was posted on the Facebook page Sheikh Assim Al-Hakeem.
Questioner asked, "Sheikh in the place where I live, the government has banned beef and slaughter of cattle for any cause. But some people do it secretly. Is doing this permissible? Will my qurbaani be accepted if I have to go against the law and of my land do it?"
The scholar who earned master's degree in Islamic studies from Mecca's Umm al-Qura University responded, "This is not permissible. It's not permissible to get in trouble with the law like this and make things even more difficult for the whole muslim community because of such irresponsible actions! One can slaughter a ram, a goat or a camel without any problem".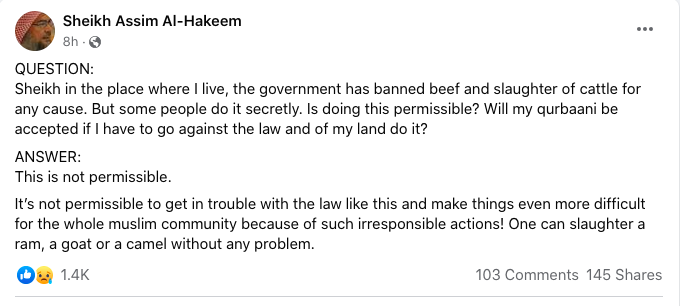 Cow slaughter in India is opposed for a number of reasons, specifically because cow's association with the Hindu deity Krishna. A large number of Hindus worship cow and regard it as 'mother'.
Supreme Court of India in 2005, upheld the constitutional validity of anti-Cow slaughter laws enacted by various state governments of India. In fact, 20 out of 28 Indian states prohibit the slaughter or sale of cows.