New Delhi — India's Minister of Women and Child Development and Minister of Minority Affairs, Smriti Irani, celebrated Saudi Arabia's 93rd National Day at the Saudi Embassy in New Delhi, where she conveyed warm wishes to Saudi Arabia and emphasized the strengthening relationship between the two countries.
Taking to her preferred social media platform, Minister Irani shared her joy at attending the 93rd National Day Reception. In her post, she expressed enthusiasm for the ever-strengthening relationship between India and Saudi Arabia, emphasizing the vast potential for multilateral cooperation and partnerships. She conveyed her heartfelt wishes to the Saudi people on this special occasion.
She wrote, "Delighted to attend the 93rd National Day Reception at the Royal Embassy of Saudi Arabia in New Delhi. The ever-growing bond between our two Nations provides limitless potential for multilateral cooperation & partnerships. Warm wishes to our Saudi friends on their special day!"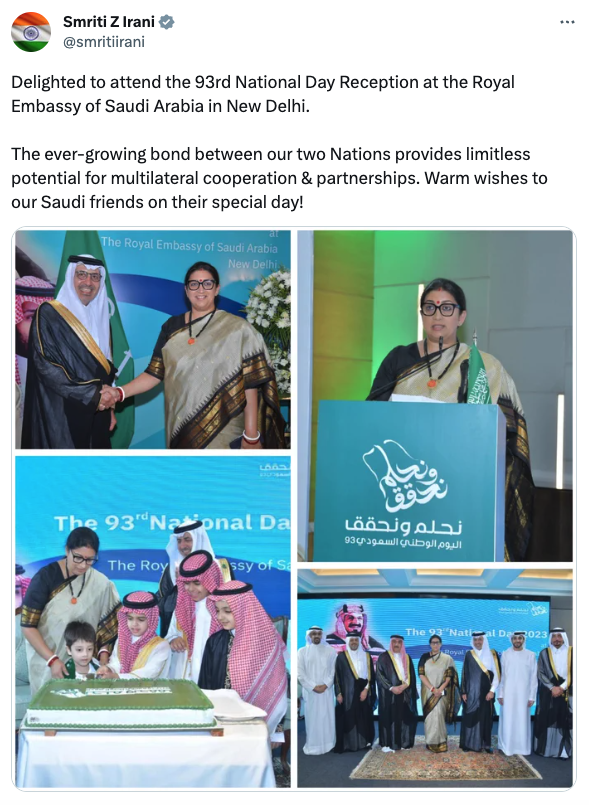 The Minister's post also featured images capturing the spirit of the celebration, including heartwarming moments of her cutting cakes with Saudi children dressed in traditional Saudi attire, complete with Shemagh and Igal headwear.
In addition to participating in the festivities, Minister Irani addressed the gathering, highlighting the importance of diplomatic and cultural exchanges in fostering strong bilateral relations.
The event drew prominent figures from various fields, including renowned journalist Aditya Raj Kaul and several influential individuals who were invited to partake in the celebration of Saudi Arabia's National Day.
The occasion served as a vibrant testament to the enduring friendship and cooperation between India and Saudi Arabia, as they continue to strengthen their ties on multiple fronts.