How Al-Saud family and Prophet Mohammed are relatives
We often come across the propaganda against the Al-Saud family of Saudi Arabia that they were originally Jews from the progeny of Prophet Isaac and Prophet Moses, who cunningly converted to Islam to take over the two holy places of Makkah and Madina.
As the matter of fact, the Jewish people are cousins to Muslims, but the base of this vile propaganda is to incite Muslims in general, that those who aren't even Arabs and those who don't belong to the family of Prophet Mohammed, have taken control of their two holy places.
However, it's as clear as a day that Al-Saud family and Prophet Mohammed belong to the same great grand father Adnan who was the descendent of Prophet Ishmael, son of Abraham and Hager.
The family tree of Prophet Mohammed is: Mohammed son of Abdullah, son of Abdul-Mutallib, son of Hashim, son of Abdulmanaf, son of Qusay, son of Kilab, son of Murrah, son of Kaab, son of Fihr, son of Kinanah, son of Khuzaimah, son of Mudrikah, son of Ilyas, son of Mudar, son of Nizar, son of Maad, son of Adnan.
The ancestor of Al-Saud family was Mani Bin Rabiah Al-Muraydi who settled in Diriyah in 1446–1447 with his clan. Al-Muraydi belongs to the tribal confederates of children of Hanifah. Hanifah was son of Afsa, son of Dumiyy, son of Jadilah, son of Anazah, son of Asad, son of Rabiah, son of Nizar, son of Maad, son of Adnan.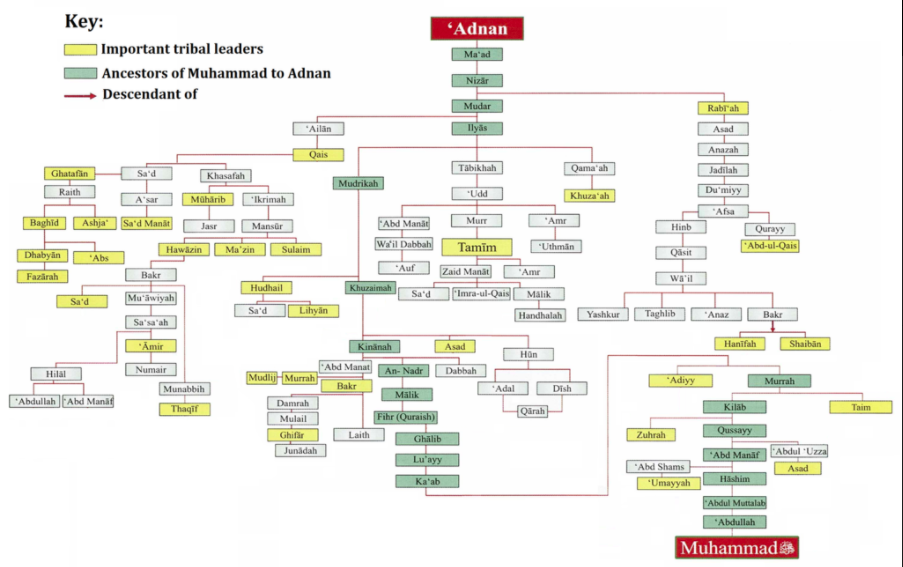 On the other hand, the 18th century revivalist Imam Mohammed bin Abdulwahab bin Sulaiman At-Tamimi, who helped Mohammed bin Saud establish a Kingdom based on unitarian Islamic beliefs, belonged to the Tamim tribe which eventually confluences with Banu Adnan.
In short, whether its the ruling Aal-e-Saud family or the religious Aal-e-Sheikh family of Saudi Arabia. They are pure Arabs from the progeny of Ishmael son of Abraham.