Riyadh – Indian envoy to Saudi Arabia H.E. Dr Ausaaf Saeed praised India's old friendship with Ghana, while bidding farewell to Ghanaian ambassador H.E. Tahir Bimbali Damba on Thursday at a high-profile virtual event hosted by Saudi Arabia's leading business entity Nawazinda Group (NTT) in association with World Business Group.
While addressing the guests and the attendees of the event, the Indian envoy described Ghana as a "beautiful country" that he visited twice, when he was serving as the Director General in External Affairs Ministry of India, he was responsible to look after the 25 western and central African countries between 2008-2010.
"Suffice to say that India-Ghana relations have traditionally been very warm and friendly. The strong foundations of our bilateral relations actually goes to the first Ghanaian president Kwame Nkrumah PC and also the first Prime Minister of India Jawaharlal Nehru," H.E. Saeed said. "Both these great leaders were very close friends. Our relations go back to that period. And the embassy of Ghana is perhaps one of the earliest embassies to have opened in India".
Further, the Indian envoy highlighted several innovative and novel initiatives taken by the Republic of India in the African continent. One of the major initiatives taken in 2004 was TEAM-9 that stands for Techno-Economic Approach for Africa-India Movement, which not only aimed at economical engagement but also at regional development. Ghana was the first country to be included in the list along with eight other African nations which included Burkina Faso, Chad, Cote d'Ivoire, Ivory Coast, Equatorial Guinea, Guinea Bissau, Mali and Senegal.
H.E. Saeed spoke about his visit to the Ghana-India Kofi Annan Centre of Excellence of Information Technology (AITI-KACE), which was established in 2003, through a partnership between government of Ghana and the government of India. It has a world-class research facility, and it also hosts West Africa's first supercomputer.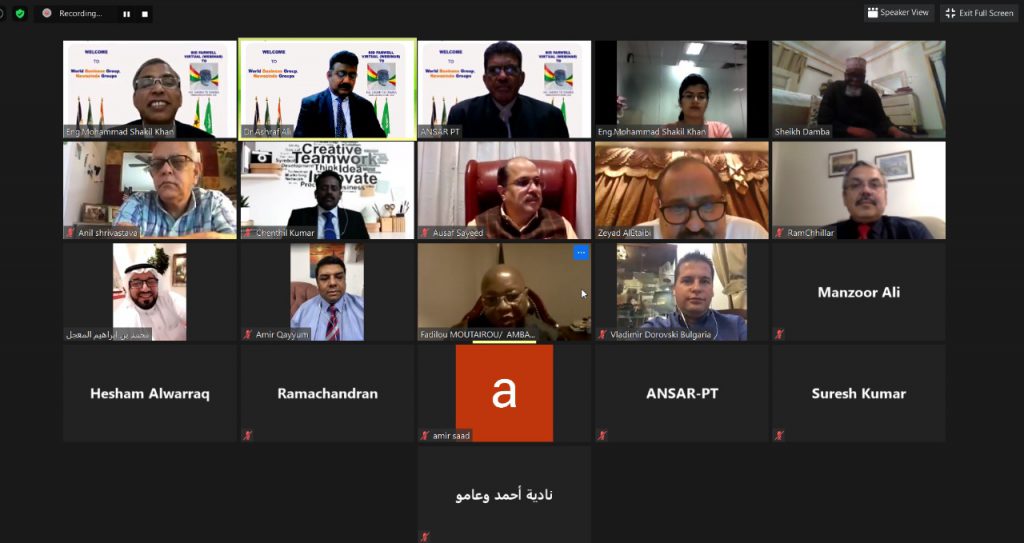 While speaking about the Ghanaian envoy H.E. Damba, the Indian envoy said that, "personally whenever I have interacted with ambassador Sheikh Damba, he has been very soft, silent gentleman, very learned, very quiet sometimes, but of course it's a very learning inspiration to meet him and always interact with him".
Vice President of the WBG Engineer Saeeduddin said that, "H.E. Damba has ensured that the energy, agricultural, educational, transport and health sectors of the Kingdom will always have a role to play in similar Governmental sectors in Ghana".
"Ghana is a peaceful and stable country with stable economy, the highly reputable ambassador also used his office to encourage Saudi investors to take advantage of the attractive incentives and to invest in Ghana", he added. "The ambassador has been a long time friend with us and our organizing team, and Nawazinda Group of companies".
The Ghanaian envoy expressed his joy and his cherishing experience about his cordial relationship, he has had with the Indian community in Saudi Arabia during his tenure.
H.E. Damba said that, "As I am going back to Ghana. I am giving you an assurance that I will be there to save the interest of businessmen from the Kingdom of Saudi Arabia and India respectively".
"Don't hesitate anytime you need my services. I will be there as your ambassador to Ghana", he added. "If you have any investment you feel, you can use that to assist the people of Ghana. I will arrange your visit to Ghana within two weeks".
Among the dignitaries who attended the virtual event were—Deputy Head of Mission of Bulgaria to Saudi Arabia H.E. Vladimir Dorovski, Ambassador of Benin Dahomey to Saudi Arabia H.E. Moutairou Fadilou, Chairman of the Mojel Group of Companies Mr. Ibrahim Al-Mojel, President of Al Karun INC, USA Mr. Anil Shrivastava, Director of Advance Electronic Systems International (AESI) Mr. Amir Qayyuum, Founder and M.D. of Zawaya Art and Design Ms. Nadia Ahmad Ouaamou, President of Hesham Consultancy Mr. Hesham al-Warraq, Security Specialist and Senior Advisor of Phronesis India Consultancy Brigadier Ram Chhillar, Vice President of Cyber NTT India Mr. Ram Chanden, Director of Cyber NTT Canada Engineer Chentil Kumar, Managing Director of Smart Media Dr. Sayeed Mohiuddin, and Managing Director of ADEPT Consultancy Mr. Junaid Abdulmalik.
Prominent Indian entrepreneur and director of World Business Group (WBG) Dr. Ashraf Ali, was the key coordinator of the event, along with his counterpart Ms. Pooja Thakur. Dr. Ashraf heads a number of projects in India and Middle-east.
Nawazinda Group under its CEO Engineer Mohammed Shakeel Khan provides a range of services in telecommunications, IT, software, transportation, civil and electrical engineering, with its branches spread all over India, United Arab Emirates, Canada, Saudi Arabia, Singapore, and the United States of America.