ANALYSIS: Hezbollah's Gangsters—Financing the Militias through Drugs, Prostitution and Extortion
by Khaled Hamoud Alshareef
Hezbollah's established and managed prostitution networks in a number of areas in which it operates in Lebanon and beyond…
Iran-backed Hezbollah's criminal activities put the likes of El Chapo, Al Capone and Shigeharu Shirai to shame. Iran's favorite militia is one of the most dangerous criminal organizations ever.
To understand why and how Hezbollah became such a huge player in the drug trade leads us to trip down memory lane to take a historical view of Lebanon.
Businessmen from Lebanon have been successful merchants for thousands of years. Due to poor financial conditions many of the Lebanese migrated to Latin America, they took control of many of the businesses that operated in the free trade zones in the Western Hemisphere.
For many decades, the free trade zones of Colon, the Tri-Border-Area (the region where the borders of Paraguay, Argentina and Brazil meet), Maicao in Colombia, and many other strategic zones have been dominated by businessmen of Lebanese descent.
Lebanese Muslims are predominately from Shiite communities whose religious and educational structures are controlled by Hezbollah.
Hezbollah often leverages loyalty by soliciting funds and the use of businesses to facilitate Hezbollah activities.
So, when the Colombian cartels developed their trafficking of massive quantities of drugs to Europe, it was no surprise that they began their movement of illicit drug shipments from Venezuela.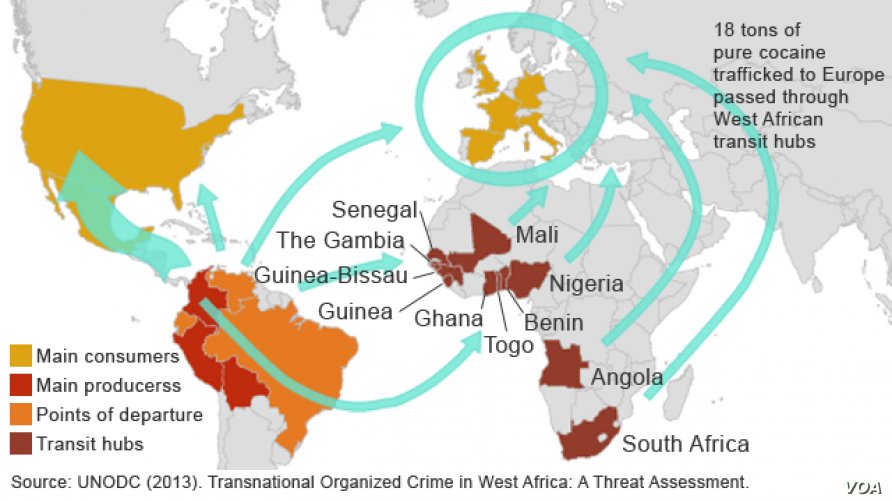 They did that because, for many decades, especially while Venezuela was led by the Chavez and Maduro administrations, Venezuela has been closely aligned both ideologically and economically with nations in the Middle East and Africa that are heavily influenced by the Iranian politics.
The heavy trade and ideological ties of Venezuela with Iran influenced countries provided the cartels with the best cover for trade based smuggling activities drugs out of Latin America and money back to Latin America.
Hezbollah loyalists stationed in French speaking countries of West Africa built and managed the major transshipment point for the cartels and their gateway to the Middle East and Europe.
In October 2008, a joint operation by American and Colombian investigators dismantled an international cocaine smuggling and money laundering ring that funneled portions of its profits to finance Hezbollah.
Unfortunately the Obama administration pulled the plug on the operation as part of the United States was aiming to secure the JCPOA Iran nuclear deal.
Hezbollah also controls the drug manufacturing in Lebanon the Middle East's leading producer of illicit drugs since 1970s and 1980s, with cultivation taking place mostly in the northern Bekaa Valley, according to United Nations Office on Drugs and Crime (UNODC) figures.
In an interview for Al-Jadeed TV, notorious Lebanese drug dealer Nouh Zeitar tells about his business and his loyalty toward Hezbollah. Speaking about his relations with Hezbollah, Zaiter said proudly that they are "the shield of the resistance…the one who protect Hezbollah, and the people who are armed most by (our connection) with Hezbollah".
Nouh Zaiter also known as the drug king of Lebanon is a loyal servant of the Resistance and Hassan Nasrallah.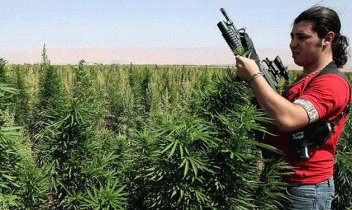 Hezbollah's established and managed prostitution networks in a number of areas in which it operates in Lebanon and beyond, including what the Lebanese Almodon newspaper mentioned of a brothel run by Hezbollah near the headquarters of the security committee in Baalbek.
The prostitution helped the militias maintain their recruiting efforts also ease the pressure on their ally Asad. Many Syrians recruited by regime following 2011 outbreak of civil war have not had their salaries paid by Asad and resulted to human trafficking and drug dealing.
The Syrian population, which is largely Sunni Muslim, has been forced to accept the Syrian forces and Hezbollah militia's monopoly on local services, as the Syrian regime continues to turn a blind eye to violence, drug trafficking, and forced prostitution.
Also in Lebanon in Hezbollah controlled areas, Syrian women and minors were forced into sexual slavery.
A dark and grim reality of the terrorist organization that claims to be virtuous and religious, the reality exposes the ugly face of this Islamist cult.
Khaled Homoud Alshareef holds PhD in Business and he earned Masters in Philosophy. He regularly tweets under @0khalodi0.