Zahack Tanvir, a Saudi-based Non-Resident Indian (NRI), has emerged as a prominent figure in the fields of counter-extremism, international affairs, and journalism. As the Director, Founder, and Editor of Milli Chronicle Media England @MilliChronicle, he has dedicated his efforts to shedding light on Islamist and extremist factions. With a diverse educational background and extensive experience in the IT industry, Zahack brings a unique perspective to his work.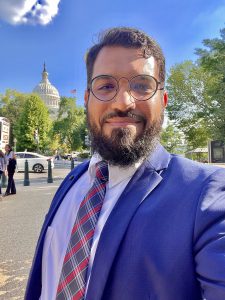 Early Life and Education
Zahack pursued his education in India before relocating to Saudi Arabia. He holds an Engineering Degree in Computer Science and Engineering from Osmania University, India. Furthering his knowledge in emerging technologies, he obtained a Post-Graduate Diploma in Artificial Intelligence and Machine Learning (AI-ML) from IIIT India.
Zahack's passion for journalism led him to complete a diploma in the field from the London School of Journalism (LSJ). Additionally, he expanded his expertise in counterterrorism through an extensive program from the University of Leiden, Netherlands.
Recently, he completed a Masters program in AI-ML from Liverpool John Moores University, United Kingdom.
Professional Background
Zahack boasts over 16 years of experience in the IT industry, having worked for both major IT giants like Infosys, and a semi-government company in Saudi Arabia. This background equips him with a deep understanding of technology's impact on various sectors, including international affairs and counter-extremism.
Engagement in Global Platforms
Recognized for his expertise and insights, Zahack has been invited to esteemed international platforms. In April 2023, he participated as a panelist in the G20's Engagement group Youth-20 at the University of Jammu, India.
During this event, Zahack shared his ideas on the topic of "Regulating Non-State Actors through Concerted Efforts". His contributions provided valuable perspectives on tackling extremist elements.
In July 2023, he addressed U.S. congressmen and the Indian diaspora at Capitol Hill, Washington DC, during an advocacy event organized by the CoHNA think-tank.
During the virtual Jewish-Muslim solidarity rally organized by the Combat Antisemitism Movement (CAM) in July 2023, Zahack, delivered a deeply moving speech that confronted the sensitive and significant issue of the burning of the Holy Quran and the threats aimed at burning the Torah. He encouraged dialogue, empathy, and a deeper understanding of the challenges faced by both Muslims and Jews.
Advocacy Engagements
Zahack's dedication to counter-extremism and international affairs extends to his advocacy work and media engagements.
Zahack has also been interviewed by various renowned platforms, including India's National Security channel Defensive Offence, Citti Media of Festival of Bharat, India This Week with Amna Ansari & Khalid Baig, DO News with Sandeep Singh, The Cārvāka Podcast with Kushal Mehra, and CoHNA Podcast with Ms. Sudha Jagannathan and Suresh Krishnamoorthy from the United States.
These engagements provide Zahack with a platform to share his perspectives and contribute to the discourse on critical issues.
Media Contributions
Zahack's commitment to raising awareness about Islamist and extremist factions is reflected in his work as an Analyst. He publishes content from notable researchers and think-tank groups that focus on exposing these elements.
His bylines have appeared in reputable publications such as News18, Firstpost, and Daily Middle East. Zahack's previous affiliations include writing for Saudi Gazette and Al-Bilad between 2017 and 2019. His tweets are often quoted in news stories, further amplifying his views and insights.
Online Presence
Zahack maintains an active online presence, engaging with a wide audience. His Facebook page boasts over 88K+ followers, while his YouTube channel has accumulated more than 44K+ subscribers. On X, formerly known as Twitter, he has gathered a strong following of over 53.3K supporters.
Personal Identity
Zahack identifies himself as an "anti-Islamist" traditional Muslim, highlighting his stance against extremist ideologies while upholding his religious beliefs as a practicing Muslim.
Zahack's journey from an NRI in Saudi Arabia to a prominent figure in counter-extremism and international affairs exemplifies his dedication to combating radicalization and promoting global cooperation. Through his platform, Milli Chronicle Media, and his engagements with various organizations and media outlets, Zahack strives to create awareness, foster dialogue, and contribute to the discourse on critical issues. His multifaceted background and expertise in IT, journalism, and counterterrorism make him a valuable voice in the fight against extremism, and the pursuit to build a secure society.
Contact Information
X (formerly known as Twitter): @ZahackTanvir
Email: zahack.tanvir@millichronicle.com
WhatsApp: +44 (20) 4542 3437