by Vijay Patel
I am going to unmask people and organizations behind propaganda BBC Documentary.
Before exposing them, let me remind you about the Jallianwala Bagh massacre. The British officer gave orders, but the people who had fired were Indians! BBC Documentary is exactly similar to it.
BBC documentary starts with Alishan Jafri. He is Journalist with the Propaganda website The Wire. He also writes for Article-14 and money laundering accused propaganda firm Newsclick.
The second character in this propaganda documentary is Hartosh Singh Bal. He is the Political Editor of the Propaganda news website The Caravan. Please go and check his timeline to understand his ideology.
The third character who appeared in the Propaganda Documentary of BBC is Nilanjan Mukhopadhyay. Interestingly, he also writes for Propaganda websites The Wire and The Caravan.
He works and gets a salary from the money laundering accused firm Newsclick.
The Forth character who appeared in Propaganda BBC Documentary is Arundhati Roy. I think almost every Indian knows about her.
But very few know that she was the first to give funds to propaganda fact-checking website Altnews and their communist owners.
A Fifth character in the Propaganda BBC documentary is Jaffrelot Christophe.
Interestingly, his propaganda works are promoted by the same entities like The Wire and The Caravan.
In fact, this propaganda writer Jaffrelot Christophe has tagged Indian American Muslim Council (IAMC) which is working to put sanctions on India to watch and share this propaganda BBC Documentary.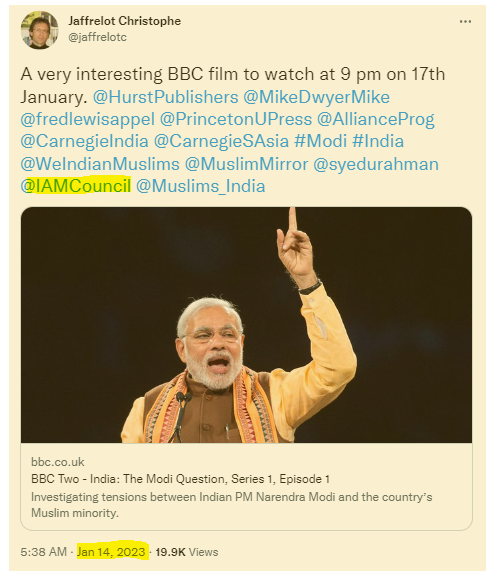 Jack Straw, another important character behind this documentary came on Propaganda Website The Wire for an exclusive interview just after the release of the Propaganda BBC documentary. What a coincidence that he chose The Wire for an interview.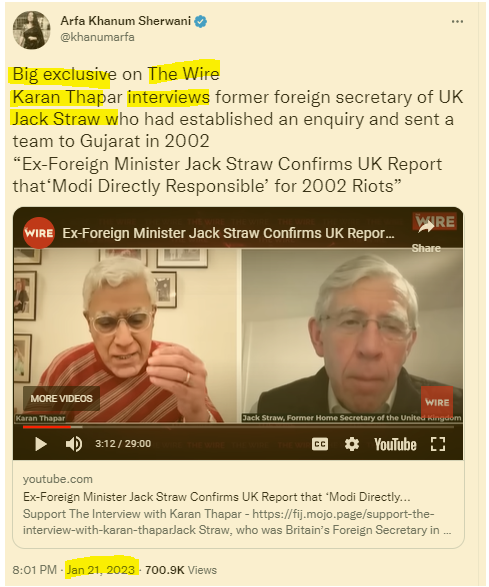 After the release of the Propaganda BBC documentary, Propaganda journalists of The Wire and The Caravan and other Independent And Public-Spirited Media Foundation (IPSMF) funded have done their job as per planning (?)
But do you know who funds these Propaganda websites like The Wire, The Caravan, Alt News, Article 14, etc..? It's IPSMF.
But who are the donors of IPSMF? IPSMF was started by securing a fund of 100 crores.
Rohini Nilekani, wife of Nandan Nilekani promised 30 Crores. Nilekani, wife of Nandan Nilekani's role models are George Soros and his Open Society Foundation along with Bill Gates and the Ford Foundation.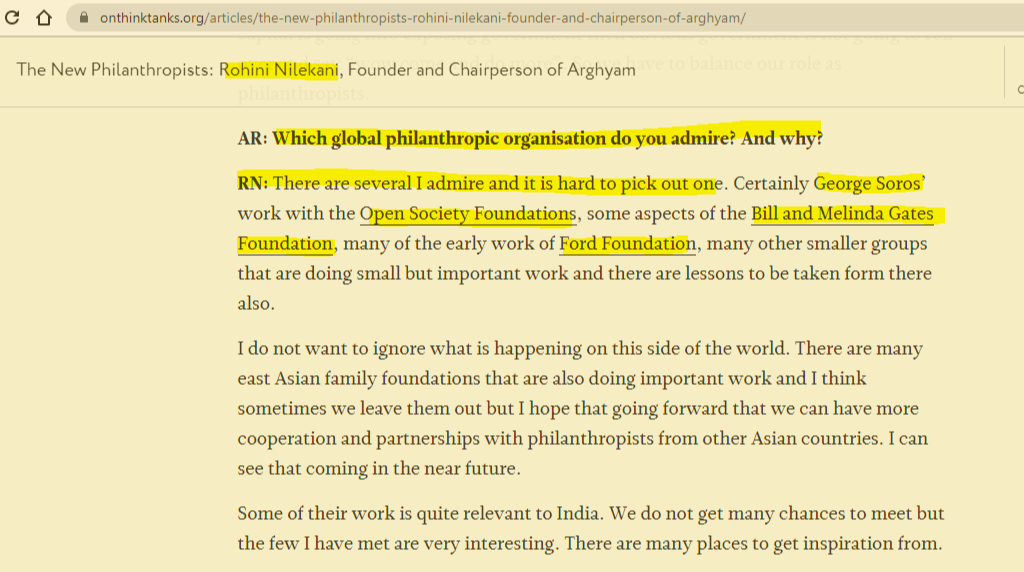 You must remember that Nandan Nilekani has contested the election on a Congress ticket in 2014 after joining Congress.
This is the time if Nandan Nilekani and other donors of IPSMF realize that they have done funding unconsciously and it was their mistake, they should dismantle IPSMF immediately and they should apologize to Indians.
If they don't do this. We Indians will consider this as a conspiracy against India.
In which Deep state wants to divide India and they are helping them just like how a few Indian at Jallianwala Bagh fired and killed innocent Indians just because a Britisher ordered them.
Vijay Patel is an Investigative Reporter and the founder of OnlyFactIndia. The article is compiled based on his Twitter thread. He tweets under @VijayGajera.
Disclaimer: Views expressed by writers in this section are their own and do not reflect Milli Chronicle's point-of-view.