Istanbul – The Turkish security forces have suddenly informed Danyal Soleimani, an Ahwazi asylum seeker who is registered with United Nations High Commissioner for Refugees last Wednesday, September 30, about the decision to deport him and hand him over to the Iranian regime in the coming days.
He did not commit any legal breach at his residence, and his file is being considered by the UN in Turkey.
The Turkish security services took the decision earlier in September, keeping Soleimani in the dark. The decision was taken suddenly without any prior notice.
Soleimani only knew when he referred to one of the official entities last September 30. He was informed that his ID is no longer valid when went to the security director. The latter informed him of the decision to close his file and deport him within days.
It has been revealed that the Turkish security apparatuses deliberately refrained from informing Soleimani of the decision in order for him not to challenge the decision on the specified date and address it from the legal aspect via lawyers and courthouses.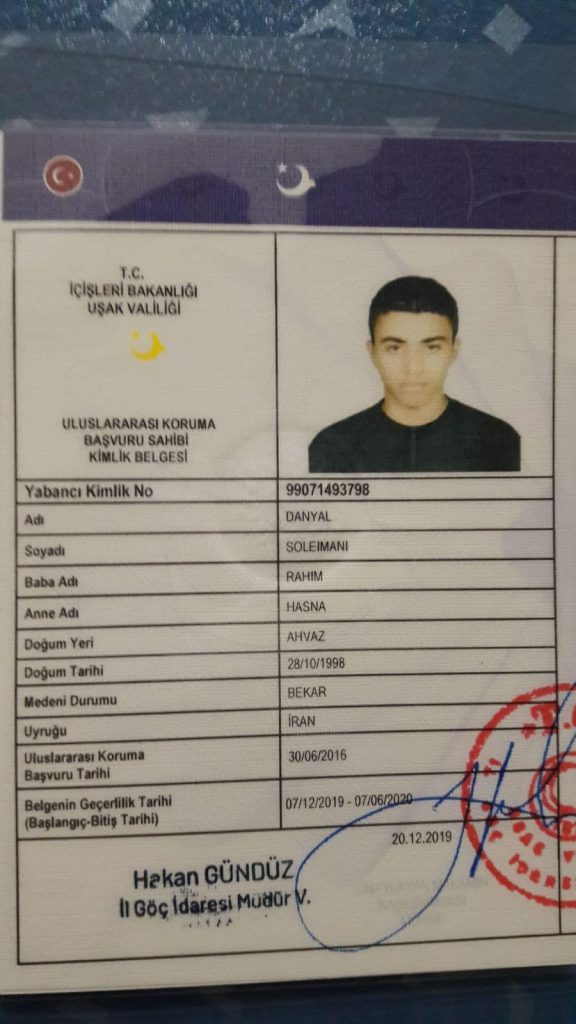 Danyal Soleimani entered the Turkish soil as he fled the injustices of the Iranian regime on June 30, 2016. Then, he was under 18. In case the Turkish authorities handed him over to the Iranian government, he will be either sentenced to death or to life in jail.
There is no justice or law within the Iranian judicial system and the other repressive apparatuses of the police state in Iran, which carries out torture and extrajudicial killing against all those opposed to it.
Danial hails from a family known for its opposition to the regime. His grandfather was executed by the government in 1980. His uncle Abdullah Soleimani was sentenced to death in 2006 and his cousin was killed by the Iranian regime forces in 2009.
A large number of his family have been arrested, including women and the elderly over the past years.
The Iranian security apparatuses bear a big deal of grudge and venom towards his family, treating them very cruelly and ruthlessly. Mr. Danyal has relatives who are political asylums in the US and Europe.
Fayez Rahim Soleimani, Danyal 's brother, called on the Turkish authorities to reconsider the unjust decision, to avoid being involved in human rights violations against the Ahwazis and not to enable the regime to crack down, repress and kill the Ahwazis.
He also held the Turkish accountable for any harm that could be inflicted on his brother. He added this issue will make Turkey bear a tremendous political and humanitarian responsibility and create an Ahwazi public opinion hostile to it.
Rahim also pointed out that it is necessary for the UN offices in Turkey to intervene to solve this matter, given the fact that the Ahwazi refugees in Turkey are registered with it, and they are supposed to be under its guardianship.