ANALYSIS: The Untold Story of Saudi Arabia's War against ISIS
by Khaled Hamoud Alshareef
The Saudi security services specialized in combating terrorism were able to execute a number of pre-emptive strikes against ISIS inside Saudi Arabia…
Contrary to what some media platforms want you to think, Saudi Arabia is one of the leading countries in its fight against all forms of terrorist organizations and extremist ideology of Islamist groups and individuals that threaten the peace and stability of society.
The Saudi government played a significant role in the war against the terrorist organization ISIS externally by taking part in the international coalition to fight ISIS, and internally by confronting its ideology and the extremist Islamist ideology in general.
Immediately after the rise of the ISIS terrorist organization, Saudi Arabia placed it on the terrorism list issued in 2014, which also included Al Qaeda, Al Qaeda in the Arabian Peninsula, Al Qaeda in Yemen, Al Qaeda in Iraq, ISIS, Jabhat Al Nusra, Hezbollah branch of Saudi Arabia, The Muslim Brotherhood, the Houthi group, in addition to all the groups and currents contained in the lists of the Security Council and international bodies linked with known terrorist groups or linked to violent extremism.
Saudi Security forces responded to potential threats of the terrorist attacks by ISIS resulting in thwarting a number of terrorist attacks through pre-empting strikes and arresting a large number of supporters and sympathizers intending to carry out their crimes on Saudi soil.
The Saudi security services specialized in combating terrorism were able to execute a number of pre-emptive strikes against ISIS inside Saudi Arabia, that resulted in arresting more than 566 terrorists who formed into eight terrorist cells.
Among those arrested were six women (five Saudi and a Filipino), and five experts specializing in building of IED explosives and explosive belts, four in total three Saudis, and one Syrian (presumably the leading expert), were arrested, and a fifth was killed in a shootout.
The men worked as pawns for an operation ran by ISIS leadership in Syria and Iraq, aimed at stirring up sectarian strife and creating chaos via targeting Shiite and Sunni places of worship in Saudi Arabia.
The Saudi security services investigations resulted in exposing the locations of six highly advanced explosives manufacturing plants ran by ISIS operatives, which was originally aimed at bombing civilian targets in Riyadh, Qassim and Qatif, in 14 separate terrorist attacks.
The arrested ISIS operatives were from different nationalities, who recruited young impressionable locals, Yemeni, Egyptian, Syrian, Jordanian, Algerian, Nigerian, Chadian, and others without identification documents (usually traveling using Qatari passports).
In April 2015 the Saudi Ministry of Interior announced a list that included the arrest of 93 people, including a woman, charged with being operatives of ISIS, dealing a major hit to the terrorist group's plans in Saudi Arabia.
ISIS terrorists targeting Saudi Security forces officers and residential complexes, they carried assassination of military officer and carried out a suicide bombing inside the mosques.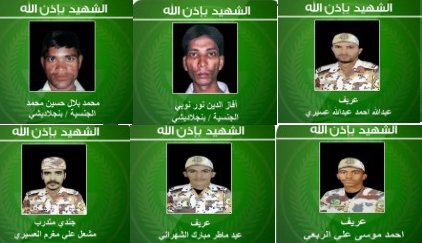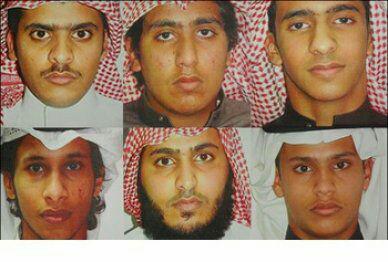 Three months later, Saudi Ministry of Interior (MOI) announced the capture of an organized cluster cells arresting 431operatives, the majority of whom were home grown terrorist, and others holding other nationalities including Yemeni, Egyptian, Syrian, Jordanian, and Algerian.
This resulted in thwarting more than 10 terrorist attacks that targeted mosques and the headquarters of a diplomatic mission, a number of security forces officers, security and government installations.
On 25th September, the Saudi security services announced the success of a raid on two different sites in Riyadh region, the first in the Munsiyah district, a residential unit, and the second was a Cabin house in the small town of Dhurma.
As the housing unit was raided the terrorists Ahmed and Muhammad al-Zahrani opened fire on police officers, and grenades were thrown at the security officers. They were successfully subdued and arrested by the security officers.
The Dhurma raid, resulted in a finding of a factory for yet another making explosives and IEDs. Later that month, the security forces managed to uncover a terrorist cell consisting of six people, and they were arrested in simultaneous security operations in Riyadh and Dammam.
Four terrorists were arrested, two terrorists were killed after they started shooting at the security officers. Few days later, the security forces carried out a qualitative operation on yet another factory for manufacture of explosives and explosive belts.
One of the operatives of ISIS, Yasser Muhammad Shafiq al-Barazi (Syrian), converted his house to an explosives factory in which explosive materials and explosive belts were manufactured and prepared to carry out attacks.
He and a Filipino woman who cooperated with him, staying with him irregularly in the same house, were arrested.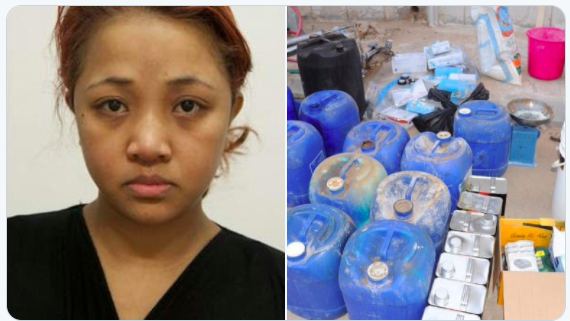 On 8th August 2016, the Security Communications Unit received (990) call from a citizen stating that his wife had left the country with three of their children (the eldest is 10 years old, and the youngest is two years old), and is accompanied by two of her sisters, one of them has four of her children (the oldest is six years old, and the youngest is one year old), in order to join ISIS in Syria. It was later proved that the aforementioned women left the country and arrived in Beirut where they were arrested before joining ISIS.
On 17th December 2016, the security forces, through their investigation and monitoring of suspected terrorist sympathizers exposed a terrorist network consisting of three cluster cells linked to ISIS that planned attacks against citizens, scientists and security officials, military and economic installations in various locations across Saudi Arabia.
The number of arrested members was 17 ISIS operatives, including a woman, all of whom were of Saudi nationality, except for three, a Yemeni, an Egyptian and a Palestinian.
These arrests foiled four significant terrorist plots at advanced stages of preparation, the first of which aimed at targeting an official from the Saudi Ministry of Defense in Riyadh.
The second was targeting the exit of the trainee students in the training city of General Security Forces, as they planned to place an explosive device at the gates to be detonated remotely during the presence of 100s of trainees.
The third was stopping of the the delivery of two explosive belts aimed to blow up civilians. The fourth of which was thwarted by the security forces where a female suicide bomber and the person incharge of suicide bombers Nassar Abdullah Muhammad Al-Mousa, a Saudi national, was arrested in possession of an explosive belt and another explosive device, aimed to blow up religious sites in Al-Ahsa, and a National Guard post.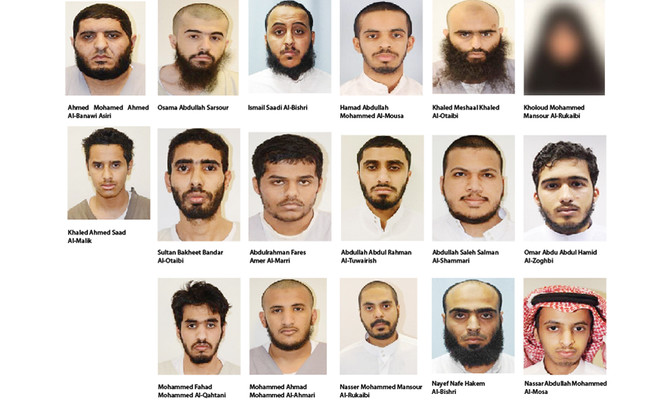 The security forces continued to achieve success in the pre-emptive strikes in the announcement by the Ministry of Interior as they arrested 14 terrorists (10 Saudis, two Pakistanis, a Syrian and a Sudanese) who formed a terrorist cell in the rural town of Shaqra, as their arrangements reached advanced stages to target a number of security men working With different security authorities in the areas of Riyadh, Tabuk, and the Eastern province.
While the four foreigners were about to carry out a terrorist operation using a car bomb on 60,000 seats Al-Jawhara Stadium in Jeddah during a match between the teams of Saudi Arabia and the United Arab Emirates.
ISIS was defeated, yet we remain vigilant and strong in the war on terrorism and extremist ideology. May God have mercy on the souls of the victims of the evil terrorist attacks and the brave men who gave their lives to keep us safe.
Khaled Homoud Alshareef holds PhD in Business and he earned Masters in Philosophy. He often writes about Islamism, Islamist factions and modern Terrorism. He tweets under @0khalodi0.